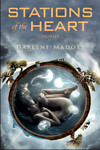 Stations of the Heart
Exile Editions, 2012 - Vanderbilt-Exile Short Fiction Prize, 2012
Darlene Madott has a unique way of telling a story, circling, until the moment she slices to the heart. In this collection about women and about the men they love and release are stories about personal journeys, about falling, getting up, and persevering...
Making Olives and Other Family Secrets
Longbridge Books, 2008 - Bressani Literary Award, 2008
We are born into families. We die inside or exiled from our families. I began writing "Making Olives" at the age of 26, and could only complete this story at the age of 55, when I finally came to understand meanings that take generations to unfold...
Song and Silence
Borealis Press, 1977
"I don't like the way you played the first phrase ... you seem to sit on that first note. I know Chopin marked it a quarter and the tempo is lento, but you have got to make it to the second note, cheat the note values a little, anticipate the second note, and incidentally, a big accent on it when you land. It's a poignant moment..."