Food, Migration, and Diversity: The Many Flavors of the Short Story
24 - 27 June 2020 • University of Calabria
The 16th International Conference on the Short Story in English will take place from June 24-27, 2020 at the University of Calabria, Rende, Italy with the theme: "Food, Migration, Diversity: The Many Flavors of the Short Story.
In This Land Is Our Land: An Immigrant's Manifesto (2019), Suketu Mehta states that wherever there are immigrants, there are stories to give voice to their feelings of displacement and belonging through memory and acts of resilience. Their lives are indeed floating narratives that become a powerful symbol of the fluidity and vulnerability of our contemporary world. In an age where the added value of cultural diversity is being questioned (again) by the resurgence of nationalistic populism and threatened by the construction of concrete and mental walls, storytelling becomes the creative space where boundaries can be blurred and the universal core of the human experience illuminated. Being one of the most diverse expressions of material culture, food pervasively contributes to define such human experience and to reveal the tensions between local traditions and global phenomena.
Drawing a parallelism between writing and cookery, the Conference aims at highlighting the variety of combinations through which the "ingredients" of the Short Story can be mixed together in order to create diverse literary recipes whose flavors represent the manifold shapes and structures of the Short Story, its plurality of voices and perspectives, its capacity to migrate and adapt to new cultural contexts and stylistic forms and to be remediated across other artistic languages. Click here For more information.
April 26, 2019: CBC - The Sunday Edition, Personal Essay: What Canadian author Helen Weinzweig taught me about writing and marriage
Darlene Madott reflects on her friend and mentor, Canadian author Helen Weinzweig, author of the 1980 novel Basic Black with Pearls. (Submitted by Darlene Madott; House of Anansi)
Its author, Helen Weinzweig, grappled with questions of gender, power, marriage, ambition, and illicit love in both her fiction and her personal life.

When Darlene Madott heard that conversation, she was reminded of all the conversations she had with Helen Weinzweig about those very subjects. Here is her essay about their friendship.
Click here to read the rest of the article.
August 20, 2017: IN THE NEWS...
AICW member Darlene Madott has been short listed for the Carter V. Cooper short-fiction award, sponsored by Gloria Vanderbilt through Exile Editions. Her short story Winners and Losers grows out of her legal background of 31 years in the practice of law, in Toronto.
She is currently at work on a collection of linked short-stories, also focussing for the first time on her legal practice. She believes her courageous departure from partnership in downtown Toronto, has led to an exile which enabled this work.
The other work that has consumed her for over two years, Dying Times, has not yet been submitted to a publisher for potential publication.
F.G. Bressani Literary Prize - October 2014
On October 7, 2014, IL CENTRO Italian Cultural Centre announced the winners of the 2014 edition of the biennial F.G. Bressani Literary Prize.
Darlene Madott was chosen as the winner of the 2014 edition of the F.G. Bressani Literary Prize (category: fiction) for her book Stations of the Heart.
She will receive her award on Thursday, November 6, 2014, at 7:00pm in the Museum at the Italian Cultural Centre (3075 Slocan Street, Vancouver).
The Prize is named after the Jesuit priest, Father Francesco Giuseppe Bressani, (Rome, 1612 - Florence, 1672) the first Italian missionary to Canada. Father Bressani published a significant book (Breve Relatione , «Brief Relation») which is considered to be one of the first Italian - Canadian literary work.
Windup Bird's Café - November 18, 2014 @ 6:30pm
Readings by the winners of the 2014 Bressani Award Winners.
Thanks...
The launch of Making Olives and Other Family Secrets (Ripasso) at Toronto Columbus Centre, May 14, 2014, celebrated more than a love of short stories and family stories. Love was everywhere in evidence and danced among the book-launch guests. To my literary family, including publisher Domenic Cusmano, literary sisters Licia Canton, Gianna Patriarca, Terri Favro, and the cast of book-launch guests and, as in Maria's prayer from the short story "Family Sacraments:" "Thanks to all my people -- the ones who loved me and didn't love me just the same -- give them Your Goodness." For all who attended and all who couldn't attend but wish they were there, the video, courtesy of Mark Tearle's artistic photography, and the alchemy of Galganov & Associates, and cast of book-launch attendees.
Oshawa, Sunday, June 8, 2014 @ 2:00 pm: Association of Italian Canadian Writers (AICW)
Italian Cultural Centre of Durham
245 Simcoe S., Oshawa, ON L1H 4H3 Canada
SALOTTO LETTERARIO
Books & Biscotti Series
The following Italo-Canadian authors will read from their works
Licia Canton, Michael Mirolla, Lucia Cascioli, Maria Zarrone, Carole Giangrande, Grant Karcick and Darlene Madott
Book Launch: Making Olives and Other Family Secrets - Ripasso
Columbus Centre - Toronto: Wednesday, May 14th, 2014
DARLENE MADOTT launched MAKING OLIVES AND OTHER FAMILY SECRETS (RIPASSO), Longbridge Books, at Toronto's Columbus Centre, May 14, 2014, fresh upon her return from Blue Metropolis, and the Montreal launch. Just as with a Ripasso wine, re-passing Valpolicella over the skins of Amarone grapes too delicious to discard, Madott′s literary revisitation of the original Making Olives, amplified with five new "secrets," has created a second and more mature fermentation. This is Madott′s 7th publication and 4th launch at Toronto′s Columbus Centre. She shared the podium with Montreal publisher Domenic Cusmano, and Licia Canton, who also launched Conspicuous Accents, Accenti Magazine′s finest stories of the first 10 Years, edited by Licia Canton. Terri Favro read from her award-winning "Queen of the Majorettes," Gianna Patriarca, dean of AICW poetic letters, according to Madott, made her gracious introduction and read from her Italian Women and other Tragedies, (Guernica) now in its 4th edition. In some cases a beautiful book can be judged by its cover, in this case Modigliani′s "Nude Sitting on a Divan," for Madott certainly takes the clothing off some of the characters in her stories.
For all who could not attend but wish they could, please click here to order the book, with discount.
This conference will bring writers of fiction in English (Irish, British, American, Canadian, Australian, Caribbean, South-African, Indian, Sri Lankan, Indonesian, etc.) and writers who have had (or will have for this event) their work translated into English together with scholars of the short story, and all will join in reading sessions, roundtable discussions and panels, including ones devoted to translation.
Darlene Madott will be attending the conference.
13th International Conference on the Short Story in English
Vienna, July 15-19, 2014
The 13th International Conference on the Short Story in English, (15*)16 to 19 July, 2014, Vienna, Austria.
Theme: Unbraiding the Short Story
The 13th International Conference on the Short Story in English will also host a number of sessions, both in the more traditional format (with presentation of papers) and in other formats involving performance, dance, art, films, etc., having in mind that the form of the short story is not necessarily confined to the limits of the written page but may open up to manifold fields of expression.
Book Launch: Making Olives and Other Family Secrets - Ripasso
YOU ARE INVITED...
RSVP by phone at 416-365-9320 #166 or
by email
Montreal: May 2nd, 2014 from 7:00 - 8:00 p.m.
Italian Cultural Institute
1200 Dr. Penfield Ave, Montréal, QC H3A 1A9
Toronto: Wednesday, May 14th, 2014 from 7:00 - 9:00 p.m.
Columbus Centre (Rotunda Room)
901 Lawrence Ave W, Toronto, ON
Montreal, May 1 to 4, 2014: 15th Biennial Conference of the Association of Italian Canadian Writers (AICW)
I am to Montreal in May, for the 15th Biennial Conference of the Association of Italian Canadian Writers, as part of Blue Metropolis. It is in the company of AICW that I again embrace my spiritual family as we come together in that creative tension of writing and "Translating Culture: Bridging Differences Together." I read from new work: "Invitation to Breaking Bread: The Dark Side of the Periodic Tables," and participate in a panel discussion on "The Dark Side of La Cena," with literary critic, Dr. Jim Zucchero, and author Michelle Alfano.
Making Olives (Ripasso) and Conspicuous Accents: Accenti Magazine′s Finest Stories of the First 10 Years, edited by Licia Canton, in which three of my stories count among "the fine," will launch together. Our thanks to Longbridge Books and our courageous publisher Domenic Cusmano.
When such a company of creative and passionate minds come together, small miracles happen. Who would have thought that beginning with the bus ride from the AICW conference in Abruzzi would come the story I read 6 years later in Montreal? But for AICW and the invitation to table of editors Loretta Gatto-White and Delia De Santis who rallied so many AICW writers for their inspired anthology, Italian Canadians at Table: A Narrative Feast in Five Courses, my little miracle likely would not have happened.
So, big embrace to AICW. Big hug to Montreal! more..
IN THE NEWS...
Darlene Madott: Taking on different roles with finesse
Panorama Italia, March 31, 2014
Darlene Madott′s writing is rich in culinary metaphors. This will be apparent on May 14 when Making Olives and Other Family Secrets (Ripasso) – with five new stories added to the original version – will be launched at the Columbus Centre.
"I′ve gone over – repassed – the amarone grapes of the original stories, and I′ve done some modifications and tweaking," says the Toronto-based writer and lawyer on her collection of Italian-Canadian short stories. "But with the new stories, there is greater depth. And just like a ripasso wine, there is richer colour."
Books and Biscotti
Sunday, November 10 2013
Come out for the launch of Guernica′s Italian Canadian at Table anthology (with contributor readings) along with books by Carmelo Militano and Caroline Morgan Di Giovanni.
Please join us for an afternoon of books and biscotti.
Sunday, November 10, 2013
2:00 p.m. to 5:00 p.m.
Columbus Centre Rotunda
901 Lawrence Avenue West
Three new books will be launched:
Sebastino′s Vine by Carmelo Militano
Second Collection by Caroline Morgan Di Giovanni
Italian Canadians at Table edited by Loretta Gatto-White and Delia De Santis
Come out and meet the writers, hear them read from their new works, share caffè, biscotti and conversazione with friends.
The Montréal Review - March 2013
"Together in Exile" A Uniquely Canadian Publishing Experience
By Michael Callaghan
Writer, and lawyer, Darlene Madott - whose collection of stories Stations of the Heart released in autumn 2012 - recently wrote her Publisher at Exile Editions, to share a sense of how she felt about joining the many authors to have appeared with Exile… more ››
Through a Life Obliquely
By Michelle Alfano
Just as the devout Catholic visits the Stations of the Cross to commemorate the Passion of Christ before the crucifixion, physically moving around a set of stations in the nave of the church, so does Madott′s Francesca… more ››
Villa Charities Newsletter - Fall/Winter 2012-13
Excerpt from page 23:
On October 3, Darlene Madott launched her sixth book, Stations of the Heart, at Columbus Centre. Madott, a lawyer, was joined at the event by luminaries including Martin Teplitsky (Order of Ontario, Q.C.), Marilyn Pilkington (former Dean of Osgoode Hall Law School), Justices Wailan Low and James Clarke, publisher/editor Barry Callaghan, and beloved family and friends, including Toni Ciccarelli, a close acquaintance of Madott′s mother. Retired Justice Clarke shared the podium with excerpts from his own publication, The Kid from Simcoe Street, about childhood abuse, loss and reconciliation.
The linked short stories in Stations of the Heart follow the secular stations of a fictional Francesca at various stages of her life as she makes the choices that propel her toward her own calvary and transformation.
Madott has donated several copies of Stations of the Heart to the Columbus Centre library.
Click here to read the Villa Charities Newsletter.
Stations of the Heart - Book Launch - March 2013
Launch of The John Madott Fine Arts Scholarship Fund at OCAD University - Aug. 15, 2012
In celebration of the life and work of artist John Madott (1918-2011) The John Madott Fine Arts Scholarship Fund was launched on August 15, 2012. The Fund is dedicated to scholarship funds for fine art students of OCADU in perpetuity.
April 14th, Annex Live:
Madott reads from More Sweet Lemons II:
Sweet Lemons 2: International Writings with a Sicilian Accent will be launched on April 14, 2011, 7:30-9:30 p.m. at The Annex Restaurant & Live Music Venue, 296 Brunswick Ave. at the corner of Bloor St. West in Toronto. Free Admission. For information about this event, contact: Michelle Alfano at notsoniceitaliangirls.blogspot.com.
April 16, 2 p.m. to 5 p.m.:
Diverse Voices of Toronto Annual Literary Festival
Columbus Centre, 901 Lawrence Ave. West - Main Boardroom, First Floor. For information, contact: Maria at mpmarch@rogers.com.
WEN′s Breakfast Networking, Toronto Ontario - Feb. 19, 2011
Darlene was a guest speaker at the WEN's Monthly Breakfast Networking Meeting on February 19, 2011. The meeting was held at the Canadiana Restaurant and Banquet Hall.
Bright's Grove, Ontario - Jan. 20, 2011 - Press Release
Two South Western Ontario Writers Edit First International Book of Its Kind.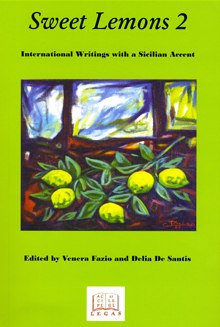 SWEET LEMONS 2: International Writings with a Sicilian Accent is a 400-page anthology, edited in South western Ontario, with contributions from close to 90 authors.
Published by Legas of New York, but edited in Canada by Bright's Grove residents Delia De Santis and Venera Fazio, the anthology celebrates Sicilian writers, culture, and immigrant experiences and includes the work of a number of award-winning writers.
"Encouraged by the success of the first Sweet Lemons anthology published in 2004, co-editor Delia De Santis and I decided a second volume might be equally rewarding," says Fazio. "The first volume sold out. It featured American and Canadian writers, was included on the Best of Sicily web site and was chosen by the magazine Italian America as one of their best picks for summer reading, 2006. For this second volume, the first of its kind, we took advantage of global networking and included not only North American writers but also authors of Sicilian heritage from other English speaking countries such as the United Kingdom, Ireland, Australia and New Zealand. A few of Sicily's renowned authors, such as Andrea Camilleri, Elio Vittorini and Maria Messina (Medal of Gold, award winner) appear in English translation."
Roughly one-third of the contributors are Canadian and a number of them are literary prize winners, for example, Darlene Madott (Paolucci Prize and F.G. Bressani Literary Prize) and Carmelo Militano (F.G. Bressani). "Delia and I are also pleased to include the work of two American Book Award winners, Maria Mazziotti Gillan and Daniela Gioseffi as well as a contribution by Inge Israel, who was named Chevalier de l'Ordre des Arts et des Lettres (France)," adds Fazio.
"As in the first book, this second volume explores the complexities of a Sicilian heritage. We know, for example, that Sicilians are often painted with a broad Mafiosi brush and that's one of the common myths about Sicilians that both books dispel. Like the first book, we believe this second one will also strike a cord with readers wanting to connect to their Sicilian heritage. For readers not familiar with Sicily, they will discover a unique island with a complex culture and a potent hold over her off springs wherever they may live."
Books are available at $24.00 American/Canadian from Amazon.com, the editors, vfazio5@cogeco.ca, deliadesantis@yahoo.com, and the publisher, Gaetano Cipolla (gcipolla@optonline.net).
For further information: Contact Venera Fazio 519-869-2725 and /or Delia De Santis 519-869-6852
November, 2010
Stations of the Heart is awaiting an offer from a prospective publisher.
More Sweet Lemons, an anthology which includes one of my short-stories, will be published before Christmas.
Descant has accepted "Entering Sicily" for a special edition, forthcoming Fall, 2011.
"Fever Food" has been accepted for a prospective anthology: Canadian Italians Invitation to Table.
My father, John Madott, and I have taken to painting again together on Sundays, in the basement of the Woodbridge home, with my mother, Francesca, clattering pots and lids in the joy of her culinary creations. "How can you concentrate?" I asked my father at my first attempt to get back, after almost thirty years. "What?" he said, pulling his eyes reluctantly off the canvas, as I pointed at the ceiling. "Oh, that. I don't even hear."
This past October, I performed highlights from "Making Olives" at the Not-So-Nice Italian Girls Speak Out Evening, with my version of the Charleston captured on You Tube.
My latest and greatest iMovie is now available on YouTube:
AICW Conference, June, 2010:
At the AICW conference in Atri, I read my reflections of Italian Canadian poet Gianna Patriarca, "Poetry in Reverse: On the experience of being translated into Italian."
Reflections on Culture, An Anthology of Creative and Critical Writing: Tooting my Father's horn!
This anthology, edited by Canton, Fazio and Zucchero, has recently been published by The Frank Iacobucci Centre For Italian Canadian Studies. The Cover features a painting by my father, John Madott, Gate to Via Agatha: Walled City of Siena, 2000, as well as 10 inside color pages, including one with John Madott at the age of 92. When I placed this publication in his hands, just before his birthday this past May, 2010 -- from the very University of Toronto through which he educated two of his daughters, he having attended the conference in 2008 which led to the publication -- he described this as "a pinnacle in my life." I am so honored to be the daughter of such a remarkable man and artist!
The Anthology includes "Afternoon in a Garden of the Palazzo Barberini," a short story which will be included in my forthcoming collection, Stations of the Heart, as well as an essay, "Contemplations of the Obstacle Race", by Darlene Madott.
The next collection is waiting on one piece of one short-story, "Cycling in Sardegna", but the proverbial penny has yet to drop. Hopefully, Atri will put new wind into the sails….
For more information about the AICW Conference, please visit their website at http://aicw.ca/2010Conference.htm